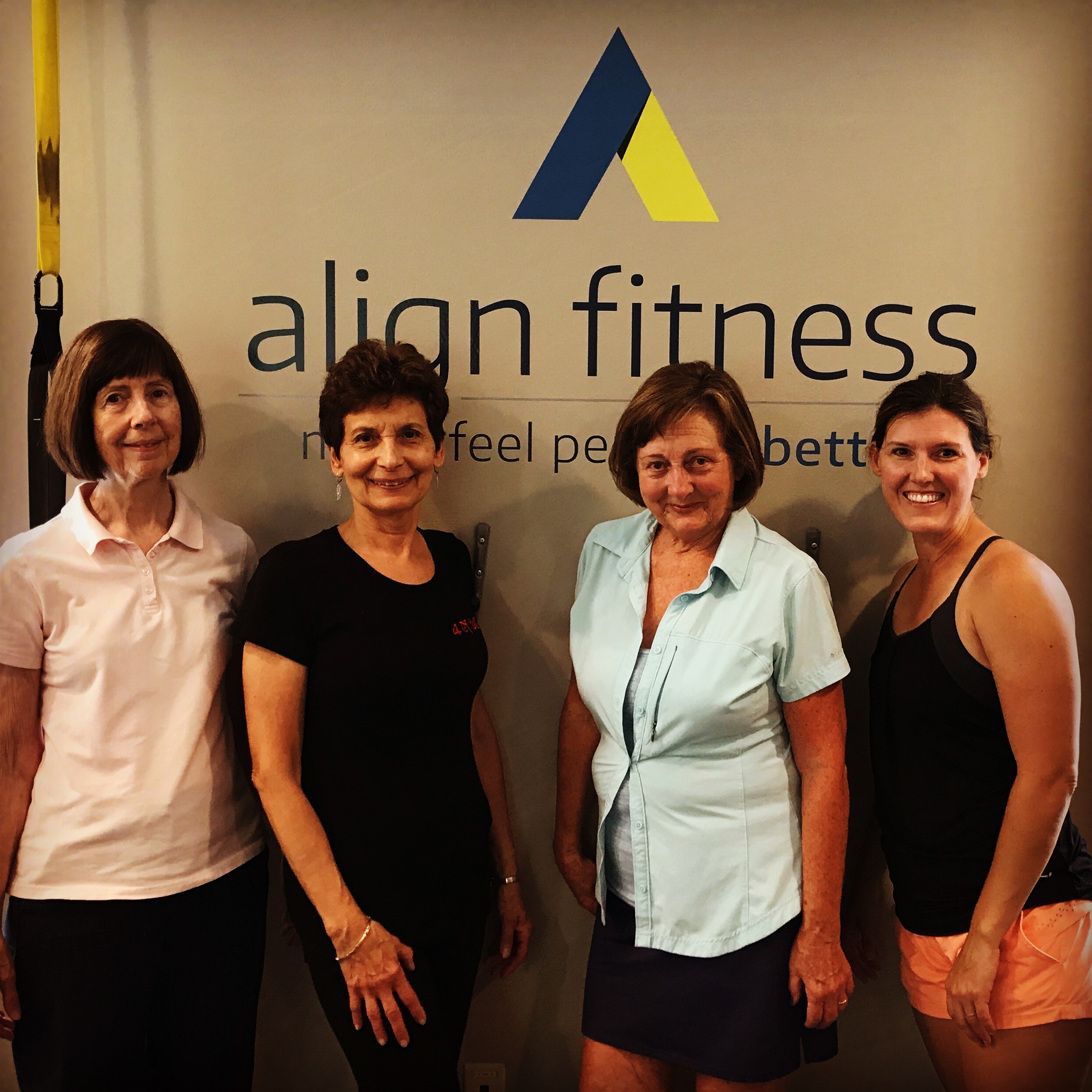 One-on-One Personal Training:
We take a very different approach to personal training. After goal setting and movement screening an individualized program designed to blend what you want (your goals) and what you need (reducing injury through improved movement). Our coaches will teach you the most effective corrective exercises and build challenging and fun training programs. Don't be surprised if you use kettlebells, TRX, bands, barbells, battling ropes, and more all in one session. Our creative programming will keep you excited for the next session.
Semi-Private Training: Personal training at less than half the cost! Our small group personal training is always kept to 2-4 participants so we can guarantee individualized attention. Our coaches will blend individualized and general training for each person in every workout. For all of our specialized offerings see our schedule. Offerings will include: Align Low Impact Training, Align Kettlebell and Bodyweight, Align Golf Fitness, Align Metabolic Conditioning, Align Strength and Yoga, and Align TRX Strength and Cardio.
Semi-Private Session Scheduling
Functional Movement Screening: Nearly all adults by the age of 35 have had a significant orthopedic injury and/or surgery. When this occurs our body compensates and we change how we move (for the worse). The Functional Movement Screen (FMS) allows our coaches to evaluate movement quality in all of the major patterns. This information is then used to build an individualized exercise script to make you move, feel, and perform better. In some cases, corrective programs have even reduced pain.
Align Golf Fitness: The game of golf has changed significantly over the years. Now more than ever fitness and golf-specific fitness matters. It can be the difference between a good or great score. It can also be the difference between playing pain free of suffering an injury.
All of our offerings in this program include a Titleist Performance Institute (TPI) Evaluation to determine individual strengths and weaknesses. Training programs are corrective in nature and designed to improve each weak physical attribute which negatively effects your swing (ability to separate, ability to stay over the ball, torso turn, balance in golf posture, etc.) Each program is designed by our head golf fitness professional. We offer Align Golf Fitness in online, 1-1, and small group training formats. More information